The LEAD Manager Training Series is a year-round training program focused on improving leadership skills for the managers of University Advancement. The programming is provided in partnership with UVA HR Learning and Development. All UA Supervisors are encouraged to attend each session. A certificate will be awarded upon completion of the series. 
Image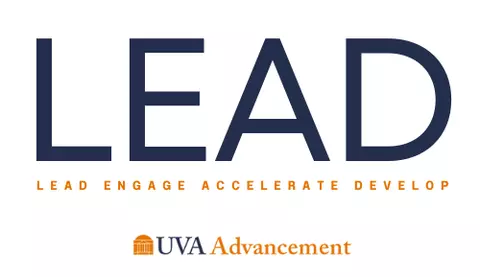 Training
Trainings will be offered on UA Collaboration Days and during Advancement's annual learning events. Each session will run 1-1.5 hours. Some sessions will require pre-work to fit the time allotted. Pre-work will be communicated at least two weeks in advance and will consist of short exercises such as reading an article, completing a worksheet, or listening to a podcast prior to the learning session.
Upcoming session topics include:
Core Values & Anatomy of Trust
March 15, 2023, 2 - 3:30 p.m.
As human beings we are wired for connection. When we feel disconnected is can feel like we are at risk. We become uncertain and emotionally exposed. In other words, it feels vulnerable. Yet, to be vulnerable with another we need to trust – trust and vulnerability are a slow stacking motion (like the game Jenga). When we trust one another, we are braving connection. Most people believe they are completely trustworthy, yet they trust only a handful of their colleagues. Believing we are trustworthy and being perceived as trustworthy by others are two different things. Conversations about trust can go sideways fast. We avoid them because we don't have the tools, the language, or the skills to talk about trust. That leads us to talking about people rather than talking to them. Trust is a non-negotiable for leading. Learning how to build trust from a place of curiosity is the skillset we will cover in this workshop. But first, we will start with values.
When we talk about the topic of trust, it is a good idea to start by identifying our personal values first. If you don't understand what your values look like in terms of specific behaviors, you're just left with empty words. Especially in the workplace, we need to operationalize our values into behaviors that we hold ourselves accountable for. And these behaviors need to be measurable and observable. In other words, you can't live into values that you can't name and describe. 
To prepare for this workshop, please complete the following ahead of time:
Listen to:
Complete:

Pages 2 & 3 of the Participant Guide and be prepared to share your two values and when you realized each were a core value. Then we will sort through the topic of Trust.

Print:

A copy of the Participant Guide. We will use it extensively during our time together.
Learning Outcomes
Upon completion of the LEAD Series, UA Managers will: 
Understand how to identify, articulate, and demonstrate team values, engender trust, and create a positive team culture.
Gain greater confidence in their abilities as leaders
Improve critical skills including communication, managing conflict, and change management.
Recognize and respond to employees' needs.
Develop professional connections and engage in peer mentoring.
Provide excellent leadership to all employees across UA.
Contact
Sandi Hall (eym5wh@virginia.edu) and April Sibiski (nbu2ag@virginia.edu), Senior Associate Directors for Staff Success, will be happy to answer any questions.