Published on September 26, 2023
Congratulations to the 2023 ACE Award Winners
Image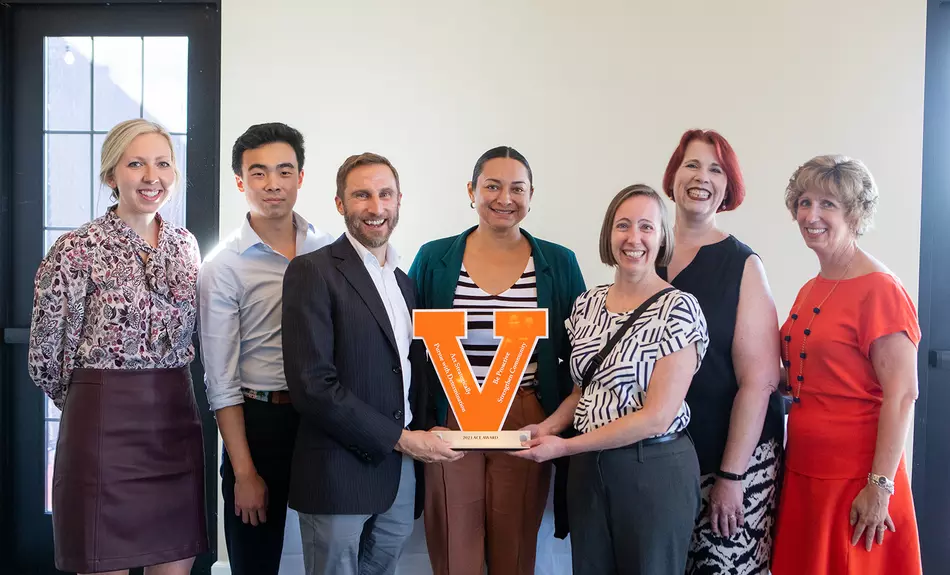 L to R: Carrie Jordan, David Yang, Michael Goetz, Sadira Glendenning, Joy Nuckolls, Beth Zitzman, and Jenn Cornell. Not pictured: Justin O'Jack, Tim Troy, Steve Mull, Sarah Sawtelle, Ann Lawrence Grasty, and Amy Nolasco.
The Advancement Community came together on Tuesday, September 19 at The Graduate in Charlottesville to recognize and celebrate the winners of the 2023 ACE Awards. Click here to view photos from the reception and to learn more about the ACE program.
Congratulations to this year's award recipients:

MVP: The team who planned, executed, and made successful the recent fundraising and engagement trip to Asia.
Michael Goetz, Senior Director, UVA Clubs Global Network
Carrie Jordan, Director of Development, International and Global Affairs
David Yang, former Ambassador, University Advancement
Beth Zitzman, Assistant Director for Signature Programs
Justin O'Jack, Chief Representative, UVA China Office
Tim Troy, Administrative Coordinator, Office of the Provost for Global Affairs
Ambassador Steve Mull, EVP and Vice Provost for Global Affairs
Act Strategically: Sarah Sawtelle, Director of Business Intelligence at the College Foundation

Be Proactive: Joy Nuckolls, Associate Director, Digital Engagement, Office of Engagement

Advocate for Diversity, Equity, and Inclusion: Sadira Glendenning, Assistant Director, UVA Clubs Global Network

Relentless Determination: Jenn Cornell, Senior Director of Major Gifts, School of Education and Human Development

Strengthen Community: Ann Lawrence Grasty, Senior Director for University Annual Giving

Friend of Advancement: Amy Nolasco, Business Systems Analyst, Student Financial Services
Nominations are open for FY24! Nominate today.