Published on September 20, 2023
UA Teams Participate in the Day of Caring
Image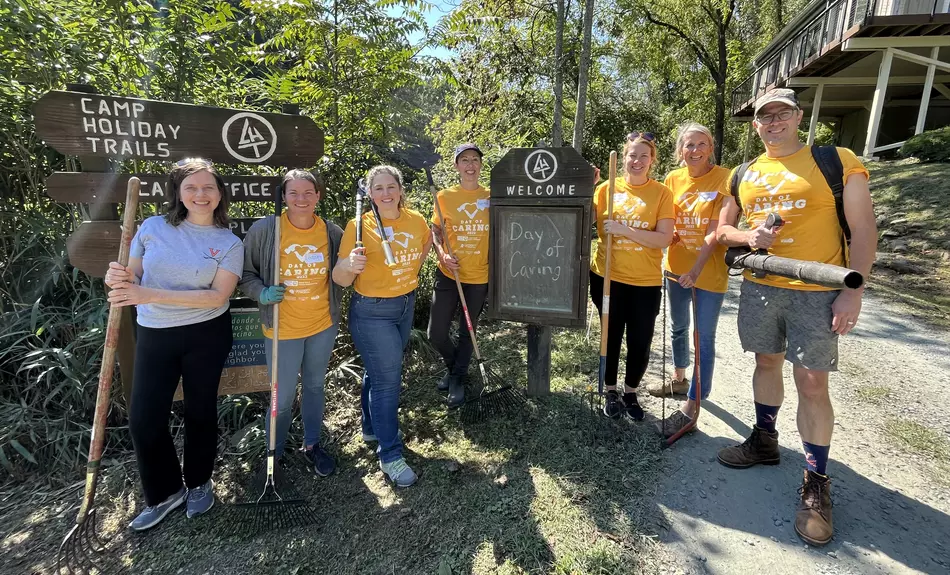 Pictured above, left to right: Pam Kelleher, Lindsey Paynter, April Sibiski, Andrea Devine, Jessica Robertson, Karyn Rader, and Bo Greenwood.

Volunteers from throughout University Advancement took part in the United Way's annual Day of Caring on Wednesday, September 20. Teams were assigned to service projects across Charlottesville, and they've done some great work. View slideshow here.
Thank you to all of the volunteers who participated in this important event!
 
Group 1
Team Lead: Marcy Sheldon (Project: Sewing Bee with UVA Health)
Sandi Hall (Project: Charlottesville Abundant Life Ministries)
Bina Hopkins (Project: Blue Star Families of Central VA)
Morgan Shedd (Project: Lakeside Middle School)
Group 2
Project: Red Hill Elementary School
Team Lead: Kelly Graham 
Cindy Fredrick
Ashley Hanes
Erin Hughey-Commers
Katherine Leatherman
Richard Long
Amy Quick
Lisa Saunders
Rachel Sigler
Holly Thornhill
Kirsten Weimer
Group 3
Project: Virginia Murray Elementary School
Team Lead: Tyler Gallik
Anna Beuchert
Mary Clyde Bissett
Alyssa Champa
James Fretwell
Katelyn Galbraith
Meredith Gillet
Tyler Graham
Jacob LaBrecque-Durham
Mark Luellen
Marianne Minton Bowes
Lilly Suwinski
Ann Walker
Julia Wheeler
Jacqui Wood
Group 4
Project: The Bridgeline (landscaping)
Team Lead: Christopher Mercincavage
Jennifer Cornell
Dana Mays
Sarah Marion
Alex Moore
Robin Stafford
Andrew Westhouse
Sandra Williams
Group 5
Project: Camp Holiday Trails
Team Lead: Bo Greenwood
Andrea Devine
Elizabeth Hilles
Pam Kelleher
Lindsey Painter
Karyn Rader
Jessica Robertson
Mary Shriver
April Sibiski